INFORMATION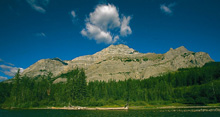 Registration
Registrations, as well as abstracts, are accepted exclusively through this page.
Participants are encouraged to pay their registration fee using a credit card (via PayPal); alternatively, bank-to-bank remittance, personal check, or international money orders are also possible.
Upon registration, a personal reference number will be sent to the e-mail address with which you register. You will need these credentials (e-mail address and reference number) to access your personal mySHVM2010 page, where you will find detailed information about payment, your abstract, etc.
This year's meeting will be held at the Delta Lodge at Kananaskis. After registration, please use this form to process your accommodation requirements directly with the hotel.
For assistance, don't hesitate to contact the SHVM 2010 Helpdesk -- we're here to help.
Registration fees
| | Early Registration | | Late Registration |
| --- | --- | --- | --- |
| Full Participant | US$ 550 | | US$ 650 |
| Student/Trainee1 | US$ 375 | | US$ 475 |
| Accompanying Person | US$ 225 | | US$ 250 |
1Letter of verification required.

The deadline for early registration is June 14, 2010.
The registration fee entitles delegates to the following:
All breaks and meals, including the Opening reception, Western evening, and the Gala dinner.
Entry to all scientific sessions and poster viewing.
A copy of the Programme & Abstracts book.
The registration fee for accompanying persons entitles to the following:
All meals including the Opening Reception, Western evening, and Gala Dinner.
Cancellations and refunds
Cancellations with a refund request must be sent by e-mail to the secretariat and must be accompanied by a valid justification. Refunds will be decided case by case by the organising secretariat. If accepted, cancellations by 6 August will be refunded by 50% of the registration fee; no refunds will be provided after 6 August.
Abstracts
Guidelines for Abstracts
Registrations and abstracts are accepted exclusively through this website.
N.B. Contrary to previous editions of this meeting, abstracts cannot be processed via e-mail.
Late breaking abstracts will not be considered for oral presentations or travel awards.
Submission deadline to be considered for oral presentation is June 14, 2010. The Scientific Committee will then review the received abstracts for inclusion in the scientific program in one of the following formats:
Oral Abstract Sessions
Selected abstracts will be presented during specific symposia as deemed appropriate by the organizing committee.
Poster Abstract Session
Posters will be displayed throughout the meeting, with ample opportunity for presentation and discussion.
The organizing committee will communicate to the authors via e-mail by July 5, 2010 whether their abstract will be an oral or poster presentation.
Abstracts will be published in the Journal Cardiovascular Drugs and Therapy.
Early Investigator Commendation
The Early Investigator Commendation (EIC) highlights the scientific accomplishments of promising young researchers and is a major focus of the Annual Congress of the Society for Heart and Vascular Metabolism. There will be four finalists, and each will receive free lodging and full registration. The finalists will present their work in a special section of the plenary sessions.
Entrants for the EIC competition should be either students or postdoctoral fellows, irrespective of their age.
Admission to the EIC competition is by submission of an abstract and a curriculum vitae by the abstract deadline. In the event that an entrant is not selected as an EIC finalist, the abstract will still be considered for presentation as a regular communication at the meeting and for publication as part of the meeting proceedings.
A more detailed document regarding the EIC can be obtained through this link.
The EIC application deadline is June 14, 2010, and notification of commendations will be given by July 5, 2010.
Language
English is the official language for the meeting.