VENUE
This year's meeting will be held at the Delta Lodge at Kananaskis. After registration, please use this form to process your accommodation requirements directly with the hotel.
Directions on how to get to Kananaskis
Transportation options
Additional information on shuttle times, etc, can be found here.
Kananaskis Country, also called K-Country by local Albertans, is a pristine place. Covering over 4,000 square kilometers of the eastern slopes of the Canadian Rockies, it borders the town of Canmore and Banff National Park.
Kananaskis Country Golf Course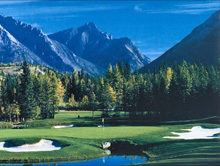 One of the premier golf destinations in the Canadian Rockies.
Second to none as a spectacular location.
The rugged surrounding mountains tower 10,000 feet (3,000 metres) above sea level.
The courses themselves are at almost 5,000 feet (1,500 metres) above sea level.
The Courses offer immaculate lush fairways, bent grass greens, over 140 silica sand bunkers, four sets of tee boxes, glacier fed creeks and ponds, the cascading Kananaskis River and a variety of wildlife.
White Water Rafting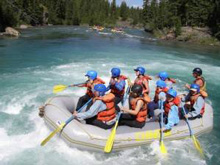 Whether you're looking for a mild introduction or you're seeking an exhilarating thrill, you will have the time of your life on a Canadian Rockies wilderness whitewater rafting adventure.
Trail Rides & Hiking
There are over 1,000 km of recreation trails, many of which are shared with mountain bikers and horses.
Canoeing
Paddle your way through the serenity of pristine lakes and rivers, butdon't forget your rod and reel.
Canmore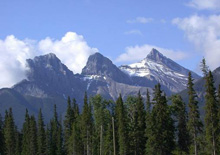 Canmore lies nestled along the banks of the Bow River in the heart of the Rocky Mountains.
Located only 5 minutes from the gates of Banff National Park.
Banff National Park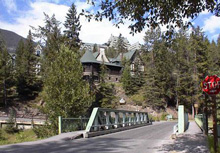 Banff National Park was established in 1885 as Canada's first National Park (third in the world) and was the birth of Canada's vast national parks system.
Banff National Park covers 6,641 square kilometers (2,564 miles).
Castleguard caves in the Northwest corner of Banff are Canada's longest cave system.
Banff National Park is a UNESCO World Heritage Site, a United Nations designation which helps protect over 20,000 square kilometers (7,700 square miles) of the Canadian Rockies.
The highest mountain in Banff National Park is Mt. Forbes which stands at 11,850 feet (3,612 meters).
Mountains in Banff National Park are 45 to 120 million years old.
Banff National Park has in excess of 1,000 glaciers.
The Bow River in Banff flows as far as Hudson's Bay.
The largest dammed lake in Banff is Lake Minnewanka and the largest natural lake is Hector Lake.
More than 4,000,000 visitors travel to Banff National Park every year since 1996.
Lake Louise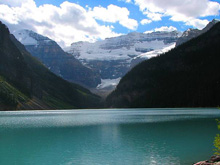 Located in the heart of majestic, historic Banff National Park, Lake Louise is truly legendary and offers world class terrain.
Wild animals roam the valleys, eagles soar over the Canadian Rocky Mountains, and pure water streams into rivers from 1,000 glaciers.