Lipids in Cardiac Health and Disease:
From Toxicity to Protection
WELCOME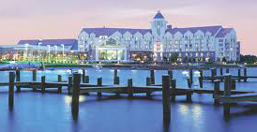 Welcome to "Lipids in Cardiac Health and Disease: From Toxicity to Protection", the 11th Annual Meeting of the Society for Heart and Vascular Metabolism. The goal of this conference is to present and discuss "cutting edge" discoveries and ideas on lipids in cardiac physiology and pathology, from the toxic effects of lipid overload in obesity to the cardioprotective effects of n3 polyunsaturated fatty acids. The program brings together international experts on dietary fat and heart disease, lipidomics, inflammatory and structural lipids, phospholipid metabolism, triglyceride storage, and inherited disorders in lipid metabolism. The conference will be held at the picturesque and secluded Hyatt Regency Chesapeake Bay Resort, Cambridge, Maryland, USA, from September 29 to October 2, 2013
As in prior meetings, there will be plenty of opportunity for young investigators to give oral presentations of submitted abstracts, plus a special session for short rapid presentations by graduate students and postdocs. The program is designed to facilitate unstructured scientific interaction, with expanded poster sessions, common dinning, and a relaxed and secluded venue on the Chesapeake Bay.
The Society has designed these meetings to maximize interactions between young investigators and senior scientists in an informal setting. With growing recognition of the importance of metabolism in cardiovascular health, the Society intends to remain at the vanguard of this rapidly expanding area. We welcome your participation, and look forward to meeting you on the Chesapeake Bay.
With best wishes,
William Stanley, PhD · Chair, Organising Committee
Jan Glatz, PhD · President, SHVM
Registrations
22 April 2013
to
01 July 2013
Late registrations will be accepted until 26 August 2013 at a higher fee. Check the Information page for further details.
Abstracts
22 April 2013
to
14 June 2013
Payment
22 April 2013
to
01 July 2013
Payment details are available through the Information page.
Organising Committee
William Stanley (Chair)
Baltimore, MD, USA
Carole Sztalryd (Co-Chair)
Baltimore, MD, USA
E. Dale Abel
Salt Lake City, UT, USA
Christine Des Rosiers
Montreal, QC, Canada
Ira Goldberg
New York, NY, USA
Michael Sack
Bethesda, MD, USA