SOCIAL ARRANGEMENTS

Wednesday, 25 June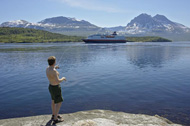 On Wednesday afternoon we will organise an excursion to Hella, which is located on the island of Kvaløya to the west of Tromsø (30 km bus ride). Here you can watch one of the strongest tidal currents in Norway (Rystraumen) and enjoy fishing from the rocks. At the same time you will have a fantastic view towards the island of Ryøya which is inhabited by musk-oxen, and to 1200 m high mountains (Bentsjordtindan). Food and beverage will be served during the stay at Hella.
Friday, 27 June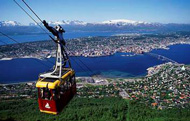 On Friday members of the local organising team will offer guidance to the mountain of Fløya for those of you who are not leaving immediately after the official programme has closed (and interested in outdoor activities). Fløya is suitable for both children and adults, and you can choose the trail or go by cable car.
Please, bring warm clothes and outdoor shoes.
"Midnight Sun Marathon"

Finally, you should be aware that the 25th "Midnight Sun Marathon", the World's most northern AIMS certified marathon will be arranged in Tromsø on 21 June 2014. For those of you who enjoy running, you can choose between five different distances, Marathon, Half Marathon, Adidas 10k, Coop Mini-Marathon or the Children Fun Run.
www
Registrations
27 January 2014
to
04 April 2014
Late registrations will be accepted until 21 May 2014 at a higher fee.
Abstracts
27 January 2014
to
17 March 2014
Payment
31 January 2014
to
04 April 2014
Payment details are available through the Information page.
Organising Committee
Terje S. Larsen (Co-Chair)
Tromsø, Norway
Ellen Aasum (Co-Chair)
Tromsø, Norway
Jan Glatz
Maastricht, Netherlands
Martin E. Young
Birmingham, AL, USA
Local Partner
Tromsø Event AS


A wealth of general information about Tromsø can be found here.
Organising secretariat