VENUE
The SHVM 2014 will be held at the Radisson Blu Hotel Tromsø.
Sjøgatan, 7
P.O. Box 928
Tromso, Norway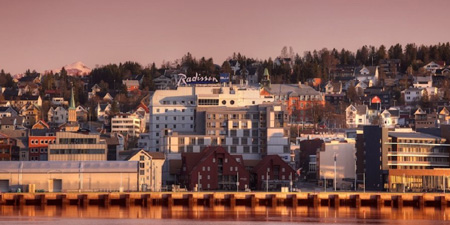 Getting there
By air
Tromsø is almost 70 degrees north, far above the Arctic Circle. Tromsø Airport is situated 5 km from the town centre. If you are travelling to Tromsø from abroad, you will usually be going through Oslo, which can be reached from any major hub in Europe (London, Frankfurt, Paris, Amsterdam, Copenhagen). There are several daily flights from Oslo to Tromsø. The flight time is 1 h. 50 min.
You can book domestic flights through the airlines Norwegian Air Shuttle or Scandinavian Airlines (SAS). Norwegian also has some direct flights between Tromsø and London in the summer season.
By car
For directions, check Google maps.
By boat
The Coastal Steamer (Hurtigruten) is generally considered to be the world's most beautiful voyage, and is an excellent way of going to Tromsø - if you have the time and the money. The Costal Steamer sails from Bergen (northbound) and Kirkenes (southbound) every day. Check Hurtigruten for more information.
By bus
Express buses connect Tromsø and major cities in Northern Norway, especially Narvik (appr. 4 hours), from where you can go by train to Stockholm (if you have more time than money). For schedules, check NorWay Bus Express.
To/from the airport
Airport express buses run to all major hotels in the city center (travel time approximately 15 min). If you are going to the the Radisson Blu Hotel Tromsø, please notify the driver. Taxis: Join the queue outside and a taxi will arrive shortly. Cost to the town center: Approximately NOK 150-200.
More information on: http://www.visittromso.no/en
Registrations
27 January 2014
to
04 April 2014
Late registrations will be accepted until 21 May 2014 at a higher fee.
Abstracts
27 January 2014
to
17 March 2014
Payment
31 January 2014
to
04 April 2014
Payment details are available through the Information page.
Organising Committee
Terje S. Larsen (Co-Chair)
Tromsø, Norway
Ellen Aasum (Co-Chair)
Tromsø, Norway
Jan Glatz
Maastricht, Netherlands
Martin E. Young
Birmingham, AL, USA
Local Partner
Tromsø Event AS


A wealth of general information about Tromsø can be found here.
Organising secretariat